Update #5

I am hoping to go to press this fall. I know my time estimates haven't been very good in the past, but I am working every day to get this project wrapped up.
There have no real problems with the project; it has just taken a long time to complete. This is a one-man operation (me) so I have to take care of everything myself. And the processes take time. For example, I had to break up the Kong chapter in Vol. 1 into 5 sections because the files are so big, and even at that so each section took 6-7 hours to output and upload. And that's just for one chapter across the complete 3-volume set.
Also, the graphics card in my main computer went out recently so the computer was in the shop for about two weeks (the graphics card had to be ordered special). No files were lost or any other problems, but things like that happen occasionally and interrupt the work.
Other than that, everything's looking good, and I'm confident you will be pleased with the results.
As soon as the files are handed off to the printer we will be able to lock down a detailed production calendar, including the soft-proof process, delivery of the files to the factory in China, the printed (paper) proof of the books, dust jackets, slipcases and other elements, the printing, the transport (by ship) to the Port of Los Angeles, inland trucking to my location, and final packing and shipping of individual orders. Such a calendar will mirror the detail in the production checklist shown below to provide everyone with a step-by-step timeline of the final production of the books.
A few orders of business:
FundAnything - The original pre-order funding for this project was through the crowd-funding site FundAnything. For all intents and purposes this crowd funding resource no longer exists. However, all of the pledges made as part of our original campaign were received and logged in, and all orders are still in place and intact. So don't be concerned that the original FundAnything site no longer functions.
Tariffs - Since the Majicks books are printed in China, some folks have expressed concerns over the recent tarrifs imposed by the U.S. government on imports from China. To the best of my understanding, these tariffs do not include printed products or paper. Thus, at this time at least, there is no financial impact on the Majicks project.

Thanks again to everyone for their support, enthusiasm, and saintly patience with this project. Everyone's anticipation for the end result (including mine) is almost palpable, but I truly feel the project will be worth the wait.
— Ernest Farino
Publisher
PS: I closed down pre-orders a while back, but several people later stepped up to order. I have not yet locked down the final print run, so if you know anyone who would like to order, or if you would like to add-to or upgrade your existing order, I can still accept individual pre-orders.
Ray Harryhausen - Master of the Majicks
Special DeLuxe Limited Edition Boxed Set of
Volumes 1, 2, and 3
Revised and updated with over 700 new or upgraded photos,
new information and interview material, and corrections and fixes.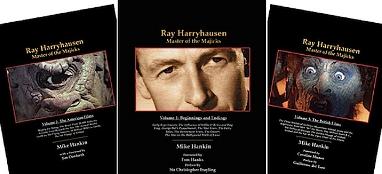 Each volume available individually, or all three volumes available as a Boxed Set with slipcase.
Slipcase and PDF document of all updated information and new photos available for separate purchase as well.
Click on our previous updates to view additional information, layouts and photos:
Update #1 Update #2 Update #3 Update #4
I received an unsolicited endorsement from from John Stevenson, Director of Sherlock Gnomes, The Ark and the Aardvark (pre-production), and Kung Fu Panda, and who previously worked in various capacities on James and the Giant Peach, Little Shop of Horrors, Labyrinth, The Dark Crystal, The Great Muppet Caper and The Muppet Show (TV Series). John summed up the Majicks project well:
"I cannot imagine what a mammoth, overwhelming task it is to put these books together on your own, Ernie. I am sure you are exhausted and fed up with the whole thing by now. Honestly, that is how I feel when I grind my way to the end of an animated movie. But everybody who bought the first volumes, or ordered this revised edition, knows that this is a labor of love by you and Mike Hankin, an extraordinary achievement and a unique and wonderful treasure about Ray Harryhausen - someone whose work touched millions and inspired a lot of us to forge our own paths in the creative arts.
"This is not a regular series of books. Beyond just the definitive statement and archive of a great artist's work, this book set is a work of art in itself. Inspired by love and made with love. Those of us who own the first editions also probably own every book on Ray Harryhausen ever printed, but your books are different. They are magnificent pieces of design in their own right, and have been created by an author and artist using all of their skills and talents to honor another artist. These books create in us Monster Kids the very same thrill that seeing a Ray Harryhausen movie for the first time did. The prickly excitement, the hairs standing up on my arms and neck, the raised pulse and that sweet joy of being gifted something that you would treasure always.
"These are not books, they are life changing experiences. You don't get many of those in a lifetime, and the ones you do get are profound events. I saw The 7th Voyage of Sinbad when I was 8 and my boring life in a rural village was now full of color, magic and wonder. Each volume of Master of the Majicks brings all of that back. These books allow me to feel that life-changing thrill again. How many books can do that?"
Pre-Orders Still Available
The print run will consist of only the number of copies determined by the pre-orders.
No bookstore sales, Amazon, eBay, etc.