Ray Harryhausen - Master of the Majicks
Special DeLuxe Limited Edition Boxed Set of
Volumes 1, 2, and 3
Revised and updated with over 700 new or upgraded photos,
new information and interview material, and corrections and fixes.
This is a Pre-Order - Production is being
completed now
Each volume available individually, or all three volumes available as a Boxed Set with slipcase.
Slipcase and PDF document of all updated information and new photos available for separate purchase as well.
Click on our previous updates to view additional information, layouts and photos:
Update #1 Update #2
Here are some additional highlights of the revised editions.
Photographic material:
A gallery of photos of Ray's models taken at The Fantastical Worlds of Ray Harryhausen display at the British Academy of Film and Television Arts (BAFTA) in 2010 during which Ray received the coveted BAFTA Award on the occasion of his 90th birthday celebration. This section was originally cut from the first edition but has been reinstated here with permission of the Ray and Diana Harryhausen Foundation.

Two pages of examples of "surface gauges" used by animators to register the movement of the model from frame to frame, which occasionally get photographed in the scene.

Expanded coverage of Willis O'Brien's work –such an inspiration to Ray– featuring many new photos, production artwork by Mario Larranaga, ads, posters, pressbook pages, and other material on The Lost World, King Kong, Son of Kong and others, including a rare, previously unknown promo drawing of King Kong by famous caricaturist Al Hirschfeld.
Color watercolor pre-production artwork by Willis O'Brien for War Eagles, The Oso Si-Papu, King Kong vs. Frankenstein, and Ring Around Saturn.
An exciting, previously unseen photo of Pete Peterson animation the piano sequence in Mighty Joe Young.
An extraordinary photo of one of Willis O'Brien's sons with the Son of Kong ape model, taken shortly before the boy's tragic death.
Ray's two different drawings of the "man-eating planet" sequence cut from Mysterious Island — one of which is a rare example of a presentation drawing that Ray rendered in

color

.
Some of Ray's armature blueprints from Jason and the Argonauts, courtesy of the Ray and Diana Harryhausen Foundation.
Photos taken recently of the locations in the Canary Islands where One Million Years B.C. was filmed, compared to scenes in the film for a "then-and-now" look.
Color frame blowups from the Tomorrow on the Moon featurette made in 1964 offering a behind-the-scenes look at the production of First Men "In" the Moon.

An expansion of our popular "Harryhausen Glamour" sections featuring the beautiful leading ladies in Ray's films.
Text:
Information from the original recently discovered one-of-a-kind "Baby Book" that Ray's mother compiled starting when he was born, including loving hand-written details about her son as he grew from an infant to a young man. His birth doctor… cutting his first teeth… Ray's first elementary school… and many more details that paint a fuller picture of the child who who grow into one of the world's master movie magicians.

Excerpts from Jan Read's original (and very different) first draft of Jason and the Argonauts, including the entirety of the sequence in which Medea escorts Jason to Hades and encounters Cerberus, the 3-headed dog; a modern-day prologue in which a group of tourists visiting the Greek ruins are told the story of Jason by a modern-day Hermes; and many details involving the characters and storyline that were revised for the final film. (For example: in this first draft, the Argonauts

kill

the Harpies rather than cage them!)
A complete reprint of a previously forgotten 1940 science fiction short story by Henry Kuttner that has remarkable similarities to what became 20 Million Miles to Earth.
An account by Terry Marison describing his experience as one of the 10-year-old boys inside the Selenite suits in First Men "In" the Moon.

Lengthy accounts by master craftsman Alan Friswell detailing his work in restoring Ray's original animation models.

A more comprehensive account of Ray's passing, his funeral, and assorted tributes from friends and family.

A complete transcription of Ray's 2004 remarks that he wrote for the program book that accompanied the unveiling of the Livingstone and the Lion bronze sculpture.

Newly-added interview material from actors Paula Raymond, Faith Domergue and Joan Taylor regarding their encounters with Harryhausen monsters.

Interview with Mike Tilly who worked for Les Bowie's special effects team on First Men "In" the Moon.

Supplemental information in our listing of cast and crew credits, filmographies, magazine inventories, and Harryhausen collectibles.
Layouts:
Consierable added color, especially to enhance the layout and graphics in those chapters covering Ray's black-and-white films.

Many photos upgraded to to better-quality images, and some photos previously available only in black-and-white now replaced with original color versions.

Revised layouts and design to present the material in the best possible way.
Below are some additional sample layouts. Some of the content will look familiar (from the first edition),
but virtually all of the layouts have new material and/or upgraded graphic design.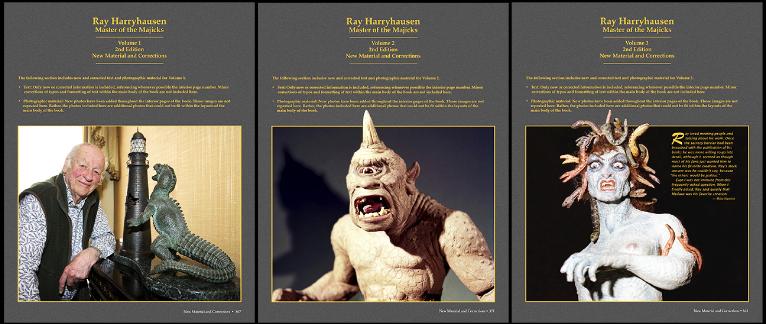 (Click on a thumbnail for a larger view, then use the arrows at the bottom right of the large image to navigate.)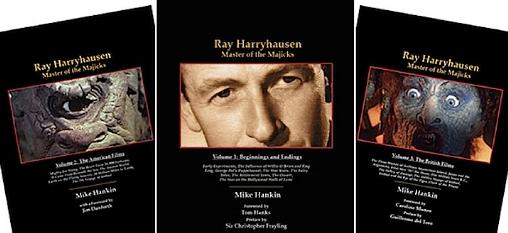 Above: The title pages for the new sections in each Volume that present new text and photos. Other new material has been inserted into the original layouts within the existing chapters.

Scroll down for some new layout previews.
Status
It's been a long time coming (how's that for the understatement of the year...?). The Master of the Majicks reprint project has turned out to be a massive undertaking, far more elaborate than just the corrections and added text here and there with a handful of new photos. The upside is that extensive new text, including information and interview material, and over 700 (!) new photos have been added to the three books. The downside is that it has taken much longer than anticipated and, in some aspects, at greater expense. Everyone – especially those who have or have seen the original editions – has been extraordinarily patient and understanding, which is much appreciated.

The time and effort has been well spent, I think; outside of the valuable contributions of the author, Mike Hankin, and our generous contributors, the production of the books has been pretty much a one-man operation, including the layouts themselves, meticulously retouching and restoring all of the images, managing the website, collating orders and maintaining the database, other business details, dealing with the printer, and so on. I don't say that by way of making excuses, just the reality of the situation. In any case, I'm rounding the corner to the home stretch. I know you've heard that before, but also know that I'm not lying on the beach soaking up the California sun. Every day, including most weekends and holidays (and some have been very long days), has been spent working on the books to not only get everything done but get it done in the best manner possible.

The one thing I cannot point to with a degree of satisfaction is my ability to predict a time frame. So I will only say that soon –and hopefully very soon– I will be locking down a precise production/printing/shipping calendar in conjunction with my printer, and when that's in place I will be announcing and publishing that plan in detail here on the website and in an e-mail Newsletter. Further, I will revive a Blog I started long ago in order to regularly report to everyone the ongoing status of the project step-by-step.

Thanks again to everyone for their support, enthusiasm, and saintly patience with this project. Everyone's anticipation for the end result (including mine) is almost palpable, but I truly feel the project will be worth the wait.
— Ernest Farino
Publisher