High quality books and magazines related to motion pictures and filmmaking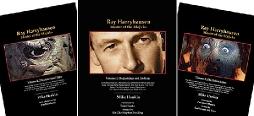 The FXRH Collection
A compilation of all 4 issues of the Ray Harryhausen fanzine FXRH with new material describing the making of the magazine.
Sold Out. But you can read about the book by clicking: Main Page
Ray Harryhausen - Master of the Majicks
by Mike Hankin

The definitive 295,000-word career biography of master stop motion animator Ray Harryhausen. All three volumes of the original edition are Sold Out, but you can read more about the contents and features in each volume by clicking on the above links.
No junk or spam, just the best way to stay informed about our products and availability. (You can Unsubscribe any time.)

Honoring
Ray Harryhausen
June 29, 1920 — May 7, 2013
Welcome to
Archive Editions
Graphic Design Services
Page Layout
Book Design & Production
Advertising
Letterheads & Logos
Click on the photo for more details and samples!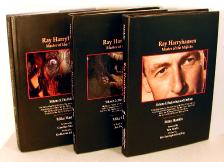 Ray Harryhausen
Master of the Majicks
Some of our previous projects...

New books by artist PETE VON SHOLLY
Pete Von Sholly's
History of Monsters
A pictorial guide to over 1,100 monsters in legend, literature, movies and television.
Profusely illustrated in full color!
Pete Von Sholly's
Dinosaurs These Days
Monsters These Days
Lovecraft These Days
A whimsical look at daily life— if dinosaurs, monsters and H.P. Lovecraft existed today! Original limericks, Illustrated in full color!
Dinosaurs, Dragons, & Drama
The Odyssey of a Trickfilmmaker –
An Illustrated Memoir by Jim Danforth

This is the story of visual effects artist Jim Danforth's journey from a childhood in rural areas of the Midwest to the soundstages of Hollywood and London, and how a shy boy with no inside contacts managed to fulfill his dream of working in The Movies.

Jim's detailed account covers his work with Art Clokey, the creator of Gumby, his involvement with the creation of The Pillsbury Doughboy, his feature film stop-motion animation assignments on Jack the Giant Killer, The Wonderful World of the Brothers Grimm, 7 Faces of Dr. Lao, It's a Mad, Mad, Mad, Mad World, his challenging assignment as designer, director, and animator of the visual effects for the Hammer Films production of When Dinosaurs Ruled the Earth, plus The Legend of King Kong, Flesh Gordon, Hiero's Journey, Conan, Ray Harryhausen's Clash of the Titans, Caveman, the unfinished production of Jim's own project Timegate, and others.
Two profusely illustrated books distributed on CD.