THE FXRH COLLECTION

("Special Visual Effects Created by Ray Harryhausen")

The legendary fanzine published from 1971 - 1974 finally reprinted in a
Deluxe Edition by the original publishers.

Includes new and rare artwork and photos, many never printed before or since!

336 pages + cover, softcover, full color, 8-1/2x11

SOLD OUT!
| | | |
| --- | --- | --- |
| | All of the above reprint material - presented just as the original magazines were at the time they came out - will be interspersed with: | |
| | | |
Cover portrait of Ray Harryhausen by 2012 Rondo Award-winning artist Mark Maddox

An ongoing account of the trials and tribulations of producing FXRH - one of the first animation and visual effects fanzines

Sam Calvin's account of meeting Ray in London in 1971

A lengthy letter from Jim Danforth in reply to FXRH #4 (never printed because there was no issue #5)

New material covering Ray's career in the intervening years

And much more!

Above: Ray Harryhausen signs copies of FXRH #4 in 1974 as part of a promotion by Columbia Pictures for Ray's then-new film The Golden Voyage of Sinbad.
Before An Animated Life...

Before Film Fantasy Scrapbook...

Even before Starlog magazine...

There was...
FXRH
(Special Visual Effects
Created by Ray Harryhausen)
In 1971, Ernest Farino and Sam Calvin teamed up to create and publish the first fanzine devoted entirely to stop motion master Ray Harryhausen. Named for Ray's on-screen credit, Special Visual Effects Created by Ray Harryhausen (or FXRH) made its debut as a 26-page offset publication, side-stapled, with an original print run of only 300 copies. Now, this limited edition softcover book combines all four issues and includes:
Extensive coverage of Ray's 16mm Fairy Tales, including frame blowups
Technical analysis of the effects in Valley of Gwangi
Detailed 2-part filmbook on Jason and the Argonauts
The 1971 interview with Ray & Charles Schneer at the National Film Theater
Sam Calvin's famous "jiggling rock" parody
Ray Harryhausen's aerial brace creations
Frame-by-frame sequences
A separate, exclusive interview with Charles Schneer
Coverage of the then-new The Golden Voyage of Sinbad
An exclusive interview with Kerwin Mathews conducted by Star Wars' Mark Hamill
Ray Harryhausen's early 16mm experimental films illustrated by frame blowups
Complete cast & credits from Ray's films
Plus Trivia, editorials, facts and figures, cartoons
Click HERE to go to our Progress page
for news and updates, plus—
• A photo slideshow
• Sample layouts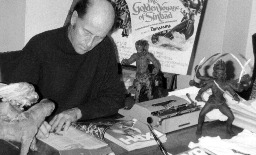 Click HERE for a list of bookstores and dealers who have stocked The FXRH Collection.