vv

History of Monsters
• 8-1/2" x 12-1/2"
• Full color throughout
• Glossy card-stock covers
• 50 pages on high-quality, 80 pound, semi-gloss paper
• Each book placed in plastic sleeve for protection
Order multiple books together and save on shipping!
Our site is secured by a GeoTrust SSL certificate, providing up to 256 bit encryption, and thereby offering the highest level of encryption and security possible. This means you can rest assured that communications between your browser and this site's web servers are private and secure.
PETE VON SHOLLY has been drawing since childhood, when he was mesmerized by Famous Monsters of Filmland and classic monster movies on TV. A career as a Hollywood storyboard artist on over 100 feature films includes Mars Attacks!, James and the Giant Peach, The Shawshank Redemption, The Blob, Nightmare on Elm Street III & IV, The Green Mile, and The Mist. Pete has illustrated several H.P. Lovecraft classics, a lavish edition of Stephen King's Skeleton Crew, and has written and illustrated 4 graphic novels published by Dark Horse, IDW, Kitchen Sink and others. His ventures into political satire were praised by The Washington Post and cited by The Village Voice as best comics of the year.
New Books from Pete Von Sholly
Distributed exclusively by Archive Editions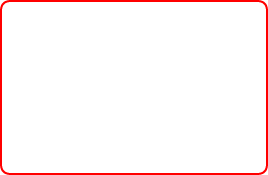 Dinosaurs These Days
• 8-1/2" x 11"
• Full color throughout
• Glossy card-stock covers
• 40 pages on high-quality, 80 pound, semi-gloss paper
• Each book placed in plastic sleeve for protection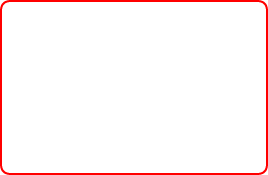 Monsters These Days
• 8-1/2" x 11"
• Full color throughout
• Glossy card-stock covers
• 40 pages on high-quality, 80 pound, semi-gloss paper
• Each book placed in plastic sleeve for protection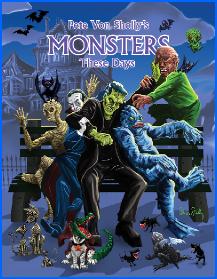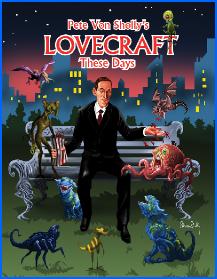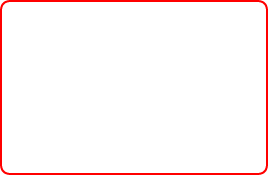 Lovecraft These Days
• 8-1/2" x 11"
• Full color throughout
• Glossy card-stock covers
• 40 pages on high-quality, 80 pound, semi-gloss paper
• Each book placed in plastic sleeve for protection
NEW Books by Artist PETE VON SHOLLY