In case it doesn't go without saying, I'm saying it – I've always liked monsters. It started with Famous Monsters of Filmland magazine where Forry Ackerman introduced me to the founding fathers of fear: Boris Karloff, Bela Lugosi and Lon Chaney. Those were the men who played the monsters, but I also met the men who made the monsters: Willis O'Brien, Ray Harryhausen, and Jack Pierce. I learned all about their movies and watched them on television and in the theater whenever I could. I built the model kits and toys. I read the other magazines too, like Castle of Frankenstein and Fantastic Monsters. And, like so many of my kindred spirits, I went on the make movies and write stories and carry on the cherished tradition. Monsters have been very, very good to me.
I also loved cartoons and comics. Charles Addams and Dr. Seuss were the first artists I knew by name, and they did something for me that stuck with me through life. Fantastic fiction and fantastic fact seem to fulfill that function for young minds, fueling the fires of creativity in a truly thrilling way.
I never got over it.
I hope the book is fun and makes you want to draw and write and paint and create. That would be fantastic.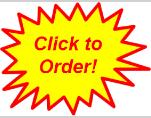 Order multiple books together and save on shipping!
Pete Von Sholly's
DINOSAURS THESE DAYS
MONSTERS THESE DAYS
LOVECRAFT THESE DAYS
All books are in stock and ready to ship!

Dinosaurs These Days is a sweet and sassy look at dinosaurs and their relatives that will delight kids, parents, and lovers of fun fantasy art. Pete illustrates the pleasures and mischief created if dinosaurs lived in the modern world, all told with a beautifully bold graphic pallet. Highly recommended! — Michael J. Ryan, Ph.D.
Head, Vertebrate Paleontology,
Cleveland Museum of Natural History
Pete Von Sholly's magnificent new book takes me back to my childhood, where dinosaurs roamed freely through my imagination. He creates a universe that I want to go to, where a Velociraptor brings me the morning paper, I walk my T-rex to the park, and dinosaurs live forever! — Ricardo Delgado
Creator, Age of Reptiles
What would happen if dinosaurs still lived and we, as coexisting humans, found ways to put their unique forms and abilities to good use? A good question, and Pete Von Sholly suggests some imaginative possibilities… at the same time making me wish I'd had a book like this back when the word "dinosaur" first became a part of my personal lexicon. — Donald F. Glut
Author of The Dinosaur Dictionary
and Dinosaurs: The Encyclopedia
It takes the creative mind and talented hands of Pete Von Sholly to grant the wish of dinosaur fans everywhere: a fun world where dinosaurs and humans live in harmony (and with humor).
— Mike Fredericks
Publisher, The Prehistoric Times
PETE VON SHOLLY has been drawing since childhood, when he was mesmerized by Famous Monsters of Filmland and classic monster movies on TV. A career as a Hollywood storyboard artist on over 100 feature films includes Mars Attacks!, James and the Giant Peach, The Shawshank Redemption, The Blob, Nightmare on Elm Street III & IV, The Green Mile, and The Mist. Pete has illustrated several H.P. Lovecraft classics, a lavish edition of Stephen King's Skeleton Crew, and has written and illustrated 4 graphic novels published by Dark Horse, IDW, Kitchen Sink and others. His ventures into political satire were praised by The Washington Post and cited by The Village Voice as best comics of the year.
Dinosaurs These Days —
If the dinosaurs were still here...
The children's book —for everyone!
(click on thumbnails for a larger view and slideshow)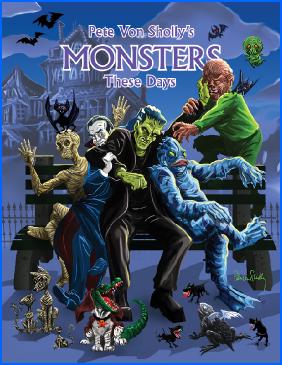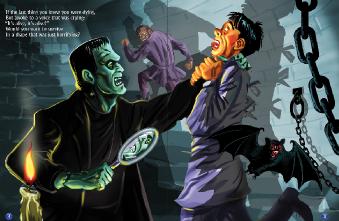 Monsters These Days —
If monsters were still here...
The humor book —for everyone!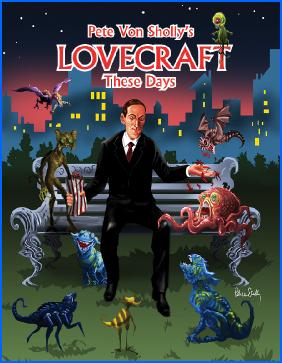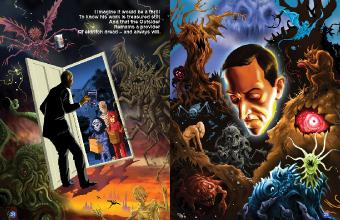 This book is an effort to have some fun with the imagery and concepts of H. P. Lovecraft by putting them into a contemporary context.
---------------------------
In the annals of Lovecraftian humour, Pete Von Sholly's Lovecraft These Days must rank high. Enlivened as always by his distinctive and memorable artwork, the book will provoke more than one chuckle — and perhaps even a guffaw or two — from all devotees of Lovecraft and his world. — S. T. Joshi preeminent Lovecraft scholar and biographer
Pete Von Sholly has created a brilliant new Lovecraft-inspired picture book that looks and reads like demented Dr. Seuss. Lovecraft fans will have a ball recognizing all the otherworldly creatures from his stories. — Stuart Gordon Director of Re-Animator, From Beyond,
Dreams in the Witch House and Dagon
Pete Von Sholly's work is amazing — beautiful lines, bright colors, and an eerie, but happy unpleasantness, if that makes any sense. One of my favorite artists. — Joe R. Lansdale "Champion Mojo Storyteller" and author of over 40 novels and 30 anthologies including The Bottoms, Cold in July and Bubba Ho-Tep
Lovecraft These Days —
If H.P. Lovecraft was still here...
The humor book —for everyone!