The plan is to update the "Latest Developments" every week, on Friday or Saturday. So feel free to
Bookmark this page to check back on Sundays to review the latest developments and progress.
Questions or comments...? Click HERE to send an e-mail to Ernest Farino.

Click HERE to return to The FXRH Collection main page.
FXRH co-publisher Sam Calvin with Ray Harryhausen (and friends) at Fanex 4, August, 1990
LATEST DEVELOPMENTS . . .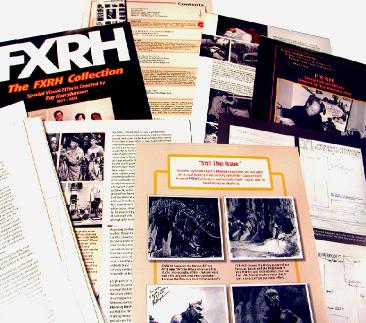 August 13, 2012 . . .
Printing is proceeding as planned, and the books are going to the bindery this week. (In fact, eagle-eyed Sam Calvin spotted one of those pesky little typos just the other day, but the plates and films have been made and it was too late to make corrections. I won't say where it is— let's see if anyone else catches it...)
I sent a set of PDF files to Richard Klemensen, editor/publisher of the Hammer magazine Little Shoppe of Horrors ("LSoH") so he could include an advance review in his upcoming issue #29. To check out the LSoH website, click here: Little Shoppe of Horrors

Here's what Richard wrote:

The 1970's was a golden era for fan-produced fantasy film magazines. You could still delve into the fannish mindset with mimeo and ditto 'zines. But offset and professionally-produced publications were taking hold. It was a period when fans who would become noted filmmakers themselves came to the forefront.

Here we have the brainchild of Ernie
Farino and Sam Calvin. Producing four
issues from 1971 to 1974 (issue #1 sold 300 copies, and by #4, they were selling 6,000!). Cinefantastique was new on the scene, from 1970, but there was no other magazine that you could compare FXRH to. Wonderfully laid out and full of in-depth articles on Harryhausen's films and effects work. Not to mention plenty of interviews with Ray, his producer Charles Schneer and stars such as Kerwin Mathews (interviewed by future Star Wars lead, Mark Hamill – they were working on a television soap opera together). Well, as they said – "Let's Do A Magazine!!" And, boy, did they succeed!!

Ernie and Sam literally kept everything from the design and evolution of each issue. Hand-written pages, layout sheets (the good old cut, glue and paste method), letters back and forth – if it involved getting the issue together, they have paperwork on it (sadly, most of LSoH's paperwork went in various dumpsters during one of my many moves).

But this is more than a nostalgic trip back some 40 years. These issues were REALLY good – and can compare easily to anything being produced today. Sam went on to a non-film career, with two children who I am sure were "ruined" for life being exposed to the same films I exposed my two sons to. Ernie became an Emmy Award-winning director of effects himself, working with Tom Hanks on the HBO miniseries From the Earth to the Moon. (Ernie says he asked Hanks what he said to Ray Harryhausen before awarding him his Lifetime Achievement Oscar® and Tom [a big fan of 2001] said, "I knew who you were before I knew who Stanley Kubrick was!" When Tom handed Ray the award, he said that he thought Jason and the Argonauts was the greatest film ever made while he was growing up.)
Click HERE to review he News Update Archive
(text only, no images)
Click HERE to Take a Look at Some
Sample Layouts
Scroll Down for a Slide Show and a link to a Gallery of Sample Layouts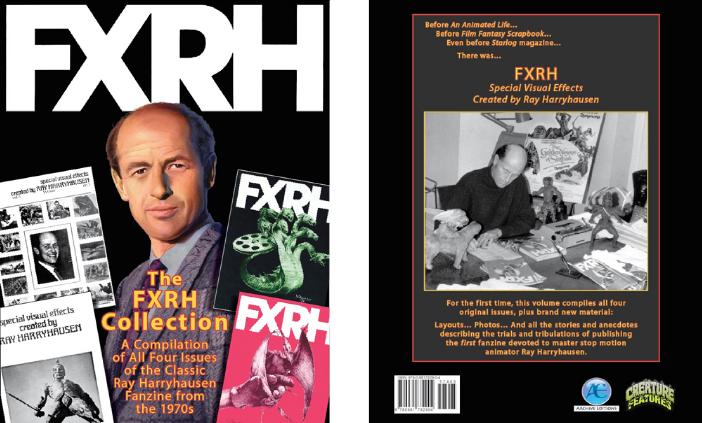 Click HERE for a list of bookstores and dealers who have stocked The FXRH Collection.