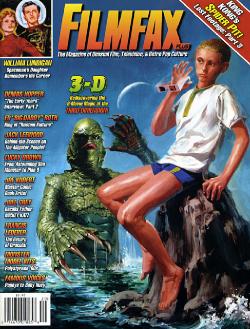 Ray Harryhausen Master of the Majicks
Vol. 2 – The American Films
by Mike Hankin
by David J. Hogan
Filmfax magazine, Spring 2009, #120
WHEN RAY HARRYHAUSEN'S Film Fantasy Scrapbook was published in 1977, lovers of stop-motion animation were ecstatic. Here, at last, were the master's own insights into his work, illustrated by a wealth of preliminary drawings and photos. In the intervening years, other books devoted to Harryhausen's artistry have raised the bar of reader expectations, and the latest, Mike Hankin's sumptuous Ray Harryhausen, Master of the Majicks, Vol. 2, is, without a doubt, the most detailed and "inside" of these volumes. It's not the only book about Ray and his movies that you'll need, but it is the one that you probably won't want to live without.
The "Volume 2" of the title doesn't mean that you've missed a volume. Hankin and publisher Ernest Farino (a skilled, long- time Hollywood special effects man) simply felt that most fans would be anxious to get right to the first half of Harryhausen's feature-film work, which falls after his puppet-film days, and before he and producer Charles Schneer decamped to Britain in the 1960s. Volume 2, then, provides detailed, astonishingly well-illustrated coverage of every Harryhausen picture from Mighty Joe Young (1949) through The 7th Voyage of Sinbad (1958) —seven films in all.
Author Hankin is a British newspaperman who devoted ten years to what will ultimately be a three-volume historical reference and career-based biography. He interviewed numberless people associated with RH over the long years of the man's career (many of whom are now gone), and gained access to numerous private archives. The oversized book bursts with hundreds of scarce photographs and other images—ad art, test shots, technical diagrams, on-set images, and more, many in full color. Scores never have seen print until now.
Hankin is a lucid, straight-forward writer who knows how to go heavy on detail while consistently engaging the reader's interest. Nifty insights abound. In the Mighty Joe Young chapter, the author provides the best-ever information about generally unsung animator Pete Peterson, who was very important to the picture's success. Tech information, as in every chapter, is top-flight, and includes background on the drunk scene, the burning orphanage, and how Joe interacted with lions, and the cowboys who want to lasso him. The Joe chapter also has the book's most delightful (and wonky) photograph, a gag shot of one of the Joe puppets under attack by a kitten that perches on Joe's shoulders. Every chapter is filled with newsy stuff. For example, The Beast from 20,000 Fathoms made exceptionally good use of front projection— which is explained at length by RH himself. And the Beast trailer includes the voices of three young actors who weren't cast in the picture at all: Merv Griffin, Vera Miles, and Paul Picerni.
On the camera side, Hankin explodes the oft-related myth about producer Schneer's hours-long effort to get footage of the Golden Gate bridge (after city fathers said "no") by shooting secretly from what looked like a bakery truck. Never happened! And a single long shot of the octopus (or hexapod, if you will), as viewed through a character's binoculars, is an unmoving matte painting that was necessitated by time and budget.
Coverage of Earth vs. the Flying Saucers is crammed with wonderful detail about the saucers, and their interactions with buildings, people, and that fabulous forest fire. (The dreadful treadmill shot of the running protagonists is also discussed.) Hankin explains that the saucers' memorable sound was tweaked audio of water rushing though the pipes at Hyperion Wastewater Treatment Plant, which stood in the for the story's Operation Skyhook facilities. The chapter includes terrific career and personality information about director Fred F. Sears, and notes that blacklisted, uncredited co-scripter Bernard Gordon received a princely $500 for his efforts.
By 1957, vast improvements to black-and-white film stock allowed the fabulous Ymir of 20 Million Miles to Earth to interact very convincingly with process plates and other elements; this was RH's best-looking effort to date. The second-unit director in Rome, Lawrence Butler, received no screen credit, but Hankin gives the guy his due.
Another enormous advance in film technology, this time Eastman's intermediate negative-positive color stock later in the '50s, allowed Harryhausen and Schneer to shoot in color for the first time. The picture was The 7th Voyage of Sinbad, which astounded audiences in 1958. Technical challenges posed by each of the film's many creatures are carefully described. The chapter concludes with charming color snapshots of an unidentified but very happy fan who posed with the Sinbad dragon and Cyclops puppets outside Harryhausen's Malibu home in 1959.
Mistakes and omissions are virtually nonexistent. In two photos in the It Came from Beneath the Sea chapter, script supervisor Gloria Alexander is identified as Faith Domergue; and a 1957 Three Stooges short, Outer Space Jitters, is omitted from Hankin's list of pictures that picked up saucer footage from Earth vs. the Flying Saucers—but that's picking at nits.
Among a boggling array of appendices are pressbook or studio publicity department synopses of each film; and complete cast and credits, with added information about locations story source material, release dates, and international titles. You will also find complete filmographies (Harryhausen films and others) of all writers, key actors, and behind-the-scenes personnel, with notations about actors who appeared in more than one Harryhausen picture.
An eye-filling "Glamour Gallery" treats nature lovers to gorgeous shots of Joan Taylor (what legs!), Faith Domergue, Terry Moore, the elegant Paula Raymond, and uber-nymph Kathryn Grant.
An especially useful appendix details the music in these Harryhausen pictures, with composer and other background information, original score sheets, and cue breakdowns, by scene.
Hankin also compiled a generous selection of contemporaneous reviews of each film. Generally speaking, Variety and other trade publications "got it" (at least insofar as tech accomplishment and box office prospects), but most other reviews are snide and dismissive, even contemptuous. For example, a July 1953 Catholic World critique of The Beast from 20,000 Fathoms closes with, "[T]his beast resembles nothing more than a well-in- flated rubber giraffe scooting merrily along underwater." (Somebody got into the Communion wine before heading out to the screening.)
Another appendix looks at a wealth of Harryhausen collectibles related to these films, encompassing 8mm home-viewing reels, soundtracks, model kits, and more. A brief but valuable technical glossary includes a chart of camera speed adjustments for miniature photography, by which animators calculate the camera-speed increase factor according to the scale of the puppet.
Although the releasing studios provided the Motion Picture Academy with detailed entry sheets (reproduced in the book) for Oscar consideration in a variety of fx areas, only Mighty Joe Young received a nomination and award (given to Willis O'Brien, who protested an Academy rule that only one name —his own—could go on the award).
Hankin's special effects appendix lists the fx Oscar winners and nominees for each year corresponding to the release of a Harryhausen picture. The win for Joe must have been heartening, but in no other year was a Harryhausen picture even nominated. Granted, competition was tough in some years (War of the Worlds won in 1953, and The Ten Commandments, dubiously, got the nod over Forbidden Planet in 1956,but how is it that The Enemy Below won in 1957, over The Spirit of St Louis, while 20 Million Miles to Earth wasn't even nominated? Similarly, tom thumb went home with Oscar for 1958, beating out Torpedo Run, while what is arguably the greatest fantasy picture of the decade, The 7th Voyage of Sinbad, was completely ignored.)
The only justice, though regrettably long in coming, is that Harryhausen's movies continue to be honored and adored. At the same time, we're unlikely to see coffee-table books devoted to the fx of Torpedo Run or The Spirit of St. Louis. He who laughs last, and all that.
BACK to Majicks Vol. 1 (main page)
Back to Majicks 1, 2, 3, Reviews and Comments
Back to Majicks 1, 2, 3, Reviews and Comments